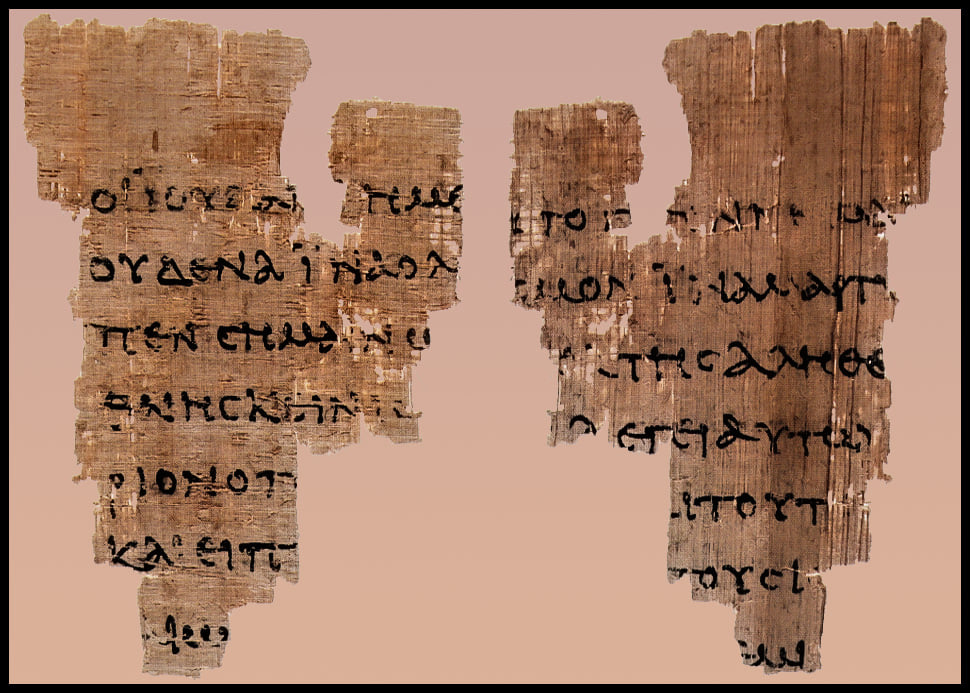 THE RYLANDS LIBRARY PAPYRUS P-52, ALSO KNOWN AS THE ST. JOHN'S FRAGMENT, IS A FRAGMENT FROM A PAPYRUS CODEX, MEASURING ONLY 3.5 BY 2.5 INCHES AND HELD AS THE OLDEST KNOWN FRAGMENT OF THE NEW TESTAMENT IN THE WORLD.
Comparison to contemporary papyri have given it a standard dating of AD 125, though the date range is given between AD 94 and 138. This makes this fragment the earliest known papyrus of a New Testament scripture, written in codex form in large print, showing that it was made for public reading.
The dates show that this copy of the gospel of John was written possibly before the death of John, but certainly within just a few years of his death. Glue found on the fragment show that it was written in codex form, not a scroll. Codices were relatively new at the time of the New Testament, but adopted widely by the early churches because of its ease of use.
The P52 papyrus contains a small portion of the following scripture text:
Front: John 18:31-33 Then said Pilate unto them, Take ye him, and judge him according to your law. The Jews therefore said unto him, It is not lawful for us to put any man to death: 32 That the saying of Jesus might be fulfilled, which he spake, signifying what death he should die. 33 Then Pilate entered into the judgment hall again, and called Jesus, and said unto him, Art thou the King of the Jews?
Back: John 18:37-38 Pilate therefore said unto him, Art thou a king then? Jesus answered, Thou sayest that I am a king. To this end was I born, and for this cause came I into the world, that I should bear witness unto the truth. Every one that is of the truth heareth my voice. 38 Pilate saith unto him, What is truth? And when he had said this, he went out again unto the Jews, and saith unto them, I find in him no fault at all.